Purchasing PER USER Licenses
To purchase a Nova Silva visual through the Microsoft AppSource, click Buy now and complete the Checkout path. See below
Go to the Microsoft AppSource
Click on the Nova Silva visual you want to purchase
Optionally click the Plans + Pricing tab for an overview of the available plans and prices
Click the Buy now button
Checkout – Plan

Select a plan: Personal, Team, Departmental, Organisational or Corporate
Click Next button

Checkout – Price + billing

Set Billing term to 1-month or 1-year subscription
Set Recurring billing: by default auto-renewal is On
Provide Number of users (both Creators and Viewers are considered Users)
Up next, choose your payment method: (You can pay with a credit card, prepaid cards are not supported)
Click Next button

Checkout – Payment

Click Accept agreement and place order button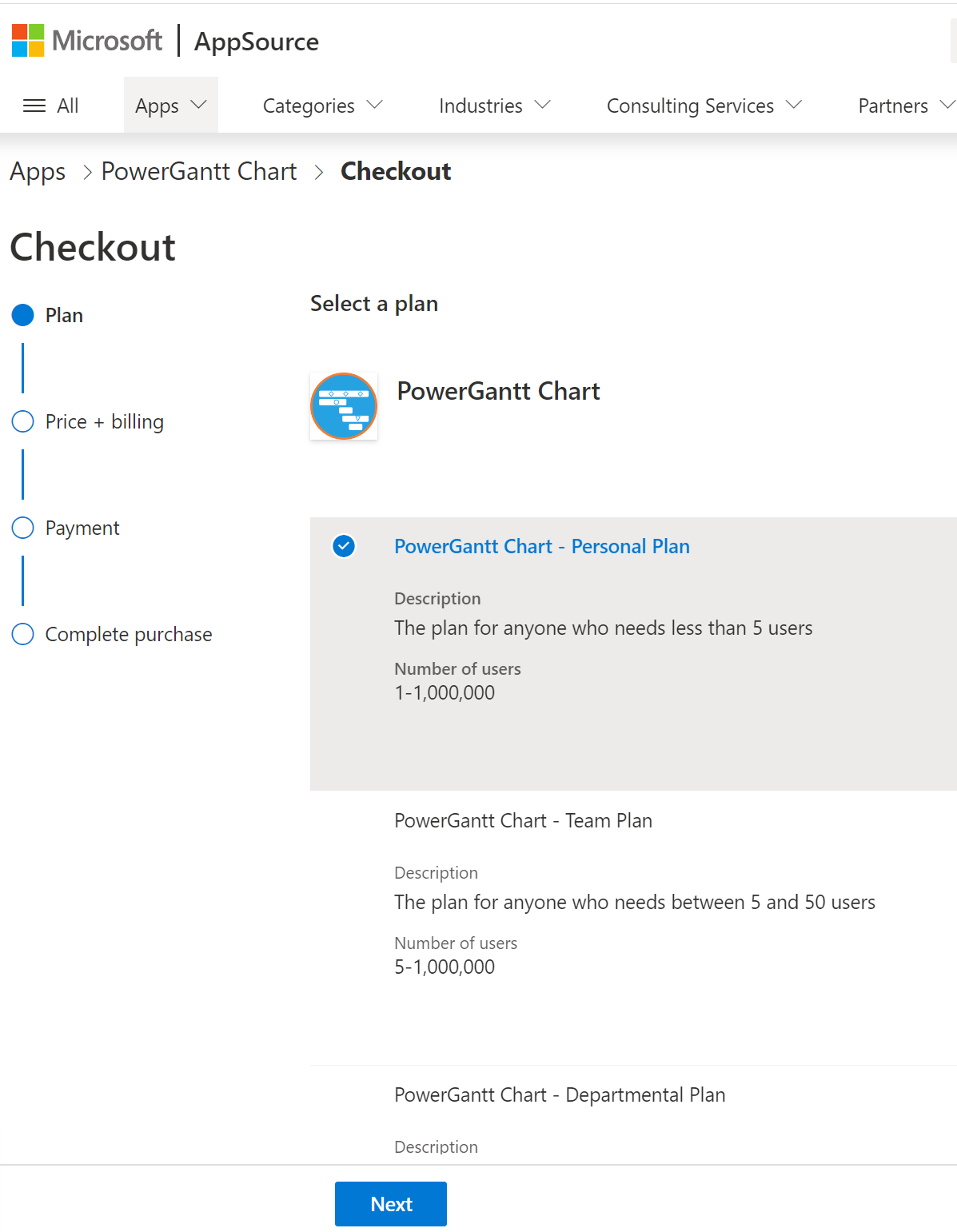 You can add a purchase number to the billing profile of your order. At the final stage of your checkout, select Add new under the billing profile and add the Purchase order number in field.
Billing and Global admins can also pay by invoice if that's set up for your company. Read more about setting payment methods. Follow these steps to see your billing profile.
Assigning PER USER Licenses
After the purchase through Microsoft AppSource is complete and successful, the  buyer (owner) will need to assign the licenses to the users.
If the tenant admin owns the licenses (Org licenses), then any of the license admins (Global Admin, License Admin or User Admin) can manage the licenses.
However, if the subscription owner is non-admin, he will have access to the portal and only he can manage the subscription and licenses. The tenant admin can see all subscriptions purchased under the tenant account, including the subscriptions purchased by non-admins.
Go to admin.microsoft.com and select the License link under the Billing node from the menu (a list of visuals appears)
Click the Nova Visual Name you want to assign licenses for
In the next page, click + Assign licenses
Search by name or email address
Select the user(s) you want to assign the licenses to
Click Assign button
You can assign the license to the users directly by providing name or email, or through Microsoft Groups either Mail-enabled or Security Group.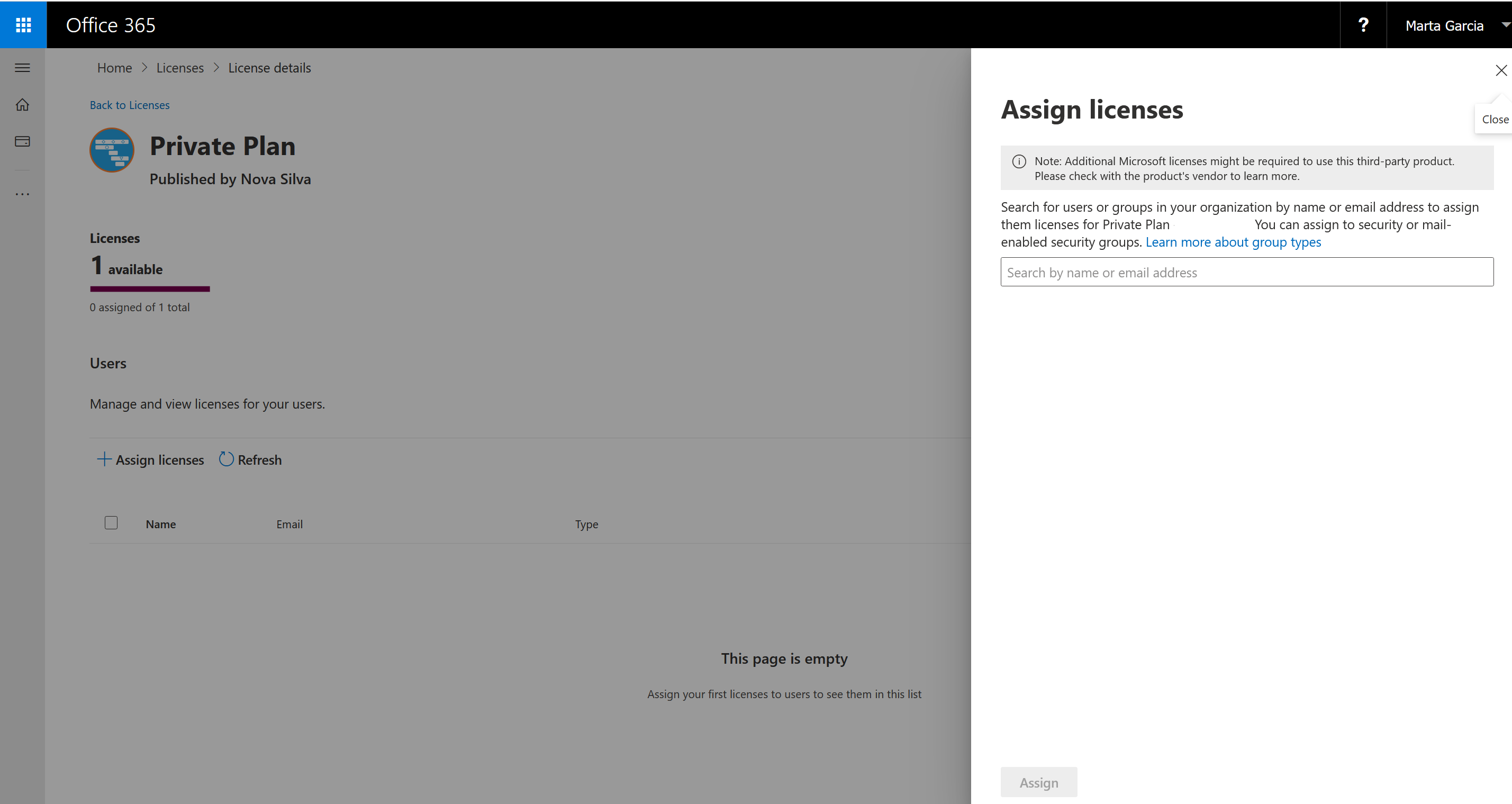 If you were just assigned a license, refresh the report to activate it by doing one of the following:
If you're using the licensed visual in the Power BI Service, refresh the report by hitting F5.
If you're using the licensed visual in the Power BI Desktop, close and reopen it.
If, after you refresh, the license is still not available, wait a while and try again. It should be available within an hour.
Managing PER USER Licenses
Access the information about the licenses you purchased and manage it in Your Products under the Billing node in the Microsoft 365 admin center.
You can Buy licenses, Remove licenses, Edit recurring billing, View billing profile, Cancel subscription, View invoice, Turn on/ off recurring bill
For help managing licenses, contact support or click the Help & Support option on the bottom right section of your screen. If you raise a support ticket provide the Subscription ID.

Considerations and limitations
Currently, the following Power BI environments don't support PER USER license management or license enforcement:
• Embedded – Publish To Web (public URL) , PaaS embed
• National clouds (Depends on general support for transactability in national clouds)
• RS Server (No planned support)
• Exporting (PDF\PPT) using REST API
For unsupported environments you need a PREMIUM license, this can be purchased from our webshop.